Fluids in the ear due to bacteria, dust, or viral infections may be treated with essential oils for ear infection. There are specific essential oils for ear infection in adults as well as children. Essential oils for relieving ear pressure are also readily available and are considered better alternatives to antibiotics and other over the counter medications. However, you still need to know which essential oils are best to treat those pains, so read on!
7 Essential Oils for Ear Infection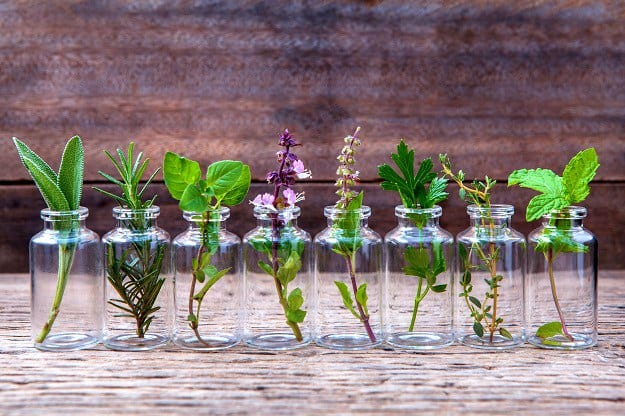 1. Garlic Essential Oil | Essential Oils for Ear Infection

Garlic oil has known antiviral and antibacterial properties that may help eliminate the bacteria that cause infection. If not treated, the infection can lead to swelling and pain, so it's best to use this oil as soon as you begin to notice an infection. Many users claim that garlic oil is safe to use for both adults and children and may be a better alternative to antibiotics.
How to Use:
Mix the garlic oil with St. John's wort oil at a 1 to 1 ratio
Add a few drops of grapeseed oil
Use a dropper to pour the mixture into the ear
Use twice daily for faster results
2. Tea Tree Oil | Essential Oils for Ear Infection

Tea tree oil has been long known for its antiseptic properties. It's been noted to treat wounds and other infections. Tea tree oil has antiviral and antibacterial properties that may kill bacteria causing ear infections. It may also help in removing excess fluids from the ear. This is particularly helpful, as excess fluids are often the root cause of infection and clogging.
How to Use:
Using a dropper, place a few drops of the tea tree oil inside the ear
When treating?ear infection in children, add a teaspoon of coconut oil as your carrier and then massage around the ear area.
3. Lavender Oil | Essential Oils for Ear Infection

Lavender oil not only possesses a calming aroma but also contains compounds that may address pain caused by an ear infection. When massaged into the affected area, it may remove tension, enhance blood circulation, and promote healing.
The antiviral and antifungal properties of lavender oil make it a common natural remedy to address ear infection and other ailments. In addition, lavender oil is also believed to be a natural hair growth booster.
How to Use:
Dip a cotton ball in lavender oil
Squeeze excess oil out
Place in the opening of the ear
Massage a few drops of the oil around the affected area
Use twice daily
Warning:
Do a patch test for possible allergic reactions
Avoid using when pregnant or breastfeeding
4. Olive Oil?| Essential Oils for Ear Infection
Olive oil ingredient stops brain cancer in lab test: https://t.co/uAC61NVtGV pic.twitter.com/fVBQCPsnuq

? Forbes Tech News (@ForbesTech) June 12, 2017

One of the most popular essential oils to address ear infection is olive oil. This oil?helps in decreasing irritation in the ear caused by the infection. When used inside the ear, it may provide instant relief for swelling eardrums. Olive oil may be a possible treatment for infection and can be used as a regular cleaning aid for the ear. It also prevents earwax buildup and may remove any water inside the ear canal.
How to Use:
Dip a clean cotton bud in warm olive oil
Use it to remove ear wax
Pour a few drops of olive oil inside the ear using a dropper
Cover the entrance of the ear with cotton balls to keep the essential oil inside
Use as often as necessary to help ease pain caused by an ear infection
5. Wintergreen Oil?| Essential Oils for Ear Infection

Wintergreen oil is another essential oil known to address ear infection. It contains aspirin-like compounds that may help reduce pain and swelling. Wintergreen essential oil is also fatal for bacteria and microbes, but keep in mind that it should not be used to treat open wounds. It is known to penetrate the skin easily and so can be effectively used treat infection in the ear topically.
How to Use:
Massage on the affected area using a few drops of wintergreen oil
Repeat 2-3 times a day.
Warning:
Do a patch test before using
Avoid direct contact with the eye and open wounds
Ginger may help reduce bloating, gas and occasional indigestion. Add a drop into your water!

#essentialoils #naturalsolutions #guthealth pic.twitter.com/FfTwYI8bJY

? Jennifer Accomando (@HolisticHlthEd) June 12, 2017
6. Oregano Oil?| Essential Oils for Ear Infection

Another natural alternative to antibiotics when treating an ear infection is oregano oil. Oregano oil contains carvacrol and thymol. These compounds are known for their antibacterial and antifungal properties. In most cases, medicinal grade oregano is distilled and extracted for its oil to later be preserved. Some of its uses include pain relief and help in treating viruses, bacteria, inflammation, and other fungal infections.
How to Use:
Dilute oregano oil in olive oil to a 1:1 ratio
Apply topically and massage on the outer area of your ear
7. Basil Essential Oil?| Essential Oils for Ear Infection

An oil that naturally contains antiviral, antibacterial and muscle relaxant properties, basil essential oil is almost a cure-all. This natural remedy for ear infection may also help diminish the symptoms of throat, respiratory, and lung infections. Basil essential oil is also a good source of iron, calcium, and Vitamin A.
How to Use:
Blend with an aromatic essential oil like eucalyptus, lavender or lemon before use, or use it undiluted
Wet a cotton ball with a few drops of the essential oil
Place the cotton ball near the ear entrance to allow basil oil fumes to remain inside the ear canal
Replace the cotton ball with a newly soaked one several times a day
Warning:
Avoid using when pregnant or breastfeeding
Dr. Josh Axe talks about how to cure an ear infection fast in this video:
The natural antibacterial properties of essential oils make them a popular and preferred treatment for ear infections. Over-the-counter treatments may induce harmful effects and allergies, while essential oils, when used accordingly, do not pose such a threat. Essential oils for ear infection are also cheaper alternatives that may can use as often as needed to help ease the pain and discomfort caused by ear infections.
Have you used an essential oil to treat your ear infection lately? Did it work? Share your experience in our comments section.
Know more about essential oils and its benefits via this article What is An Essential Oil? Bringing it Back to the Basics.
We may earn a commission for purchases made using our links. Please see our disclosure to learn more. We appreciate your support SO very much.